---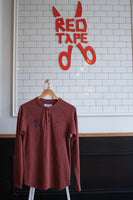 Using super-comfortable slub cotton, we've added a modern twist to a 19th-century design. Slub—a word that refers to the irregular, thick-and-thin texture intentionally spun into the thread—offers increased softness, dimension and breathability compared to conventional cotton knits. While still airy and easy-wearing in warm weather, we make our midweight Slub Henley slightly sturdier than most, giving it a touch of warmth on summer evenings as the sun starts to set. Carefully coloured with non-toxic dyes, the Slub Henley features a three-button placket, raglan sleeves for additional freedom of movement, and a longer, curved hem that sits below the waist. Combining utility, comfort and style, it's our favourite version of a shirt that's always stood the test of time.

Made In Canada.
14-oz 100% cotton in a soft and breathable slub knit, carefully coloured with non-toxic dyes.
Standard unisex fit, based on Men's sizing with a slightly longer hem. For most women, the longer hem falls modestly below the seat.