---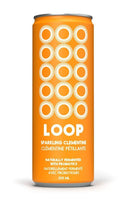 To make this gut friendly probiotic soda we mix cold-pressed juice from perfectly imperfect oranges and clementines with northern plant hydrosols: infused water that is normally rejected in the making of essential oils. That's right, this isn't just an all-vegan blend of uniquely good stuff, it's a solution to food waste.
More than 2 billion gut-friendly bacteria.
Naturally fermented.
Keep refrigerated.
Gently Swirl.
Please recycle or return where applicable.
Ingredients
Filtered water, Cold-pressed orange juice, Cold-pressed clementine juice, Kefir culture, Sweet-fern hydrosol, Cane sugar, Vegan probiotics (Organic Inulin, Bacillus coagulans GBI-30, 6086)
Vegan