---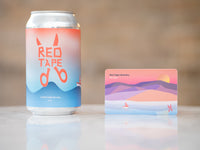 Bespoke beer card for a custom Red Tape bespoke experience.

Our bespoke beer is an amazing experience where you come into the brewery for a tasting so that we can get to know you, beers you love, and how you'd like to enjoy it!

We come up with a recipe after that and once you're happy with it we put it into the brew schedule. You're welcome to bring a group of up to 6 people to the tasting, though we'll keep our focus on who the beer is for.

Our $1,200 package includes the experience and 100 cans of the resulting beer with a custom name and description on our labels.

A Brew Just For You!